Theresa and Ryan first met each other at church, but their relationship really started as Ryan attended a local Bible College. At the end of the day or in-between classes, Ryan and his friends would often hang out with Theresa and her friends. One of their mutual friends looked at Theresa and asked, "would you date this guy?" — quite the ice-breaking conversation starter!
Their church family are some of their closest friends, so what better way to propose than while they are all away for their church's winter retreat? Ryan got everyone organized and in on the surprise; Theresa didn't suspect a thing!
On the last night of the retreat, as Theresa was distracted by a game of Charades, Ryan snuck out of the main common area to set up the big surprise. He fashioned a scrapbook documenting their adventures together, prepared his guitar, and a couple of her favourite love songs.
As the night drew later and later, Theresa became very sleepy. Her friends, knowing about the imminent surprise, started to distract her with anything and everything to keep her awake for just a few more minutes.
Finally, everything was set! Theresa walked into the room, took a seat beside Ryan, he sang "Sleeping to Dream" by Jason Mraz, "Lovebug" by The Jonas Brothers, and a few other songs as she flipped through the scrapbook. He popped the question and she said, "Yes"! They also have a "vlog" documenting major events in their relationship together, so they made another 'video log' entry here!
As Theresa returned to her room for the night, her girlfriends wanted to congratulate her and hear all about it, except they each came in one-by-one, so she had to re-tell the story again and again. As the group of girls grew larger and larger, they didn't mind the repetition — it became kind of a fun game to see the new person's reaction! :) A memorable proposal surrounded by their loving friends.
The next morning, Theresa woke up to the sound of her girlfriends shouting, "Good morning, engaged woman!"
P.S. Theresa and Ryan, thanks for treating me out to my first The Burger's Priest burger experience! Maybe engagement sessions really are better, first thing in the morning :)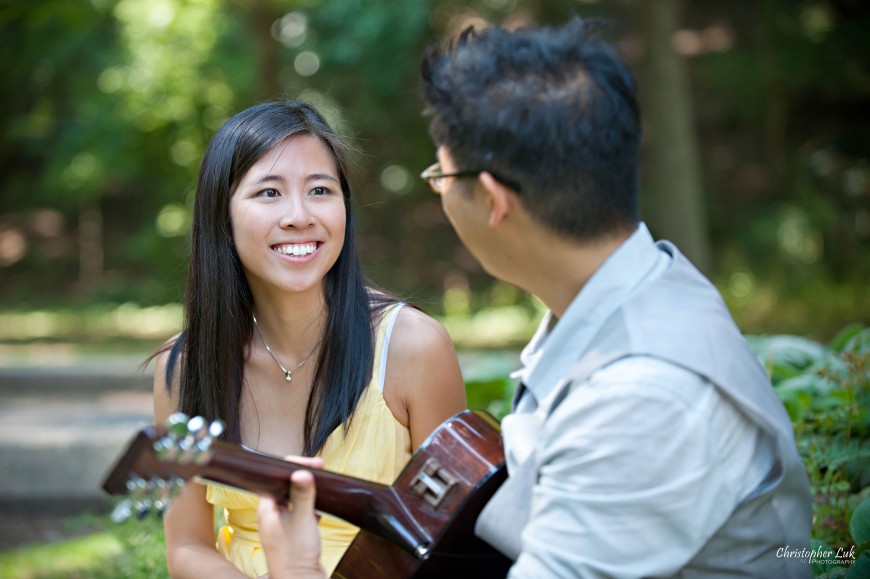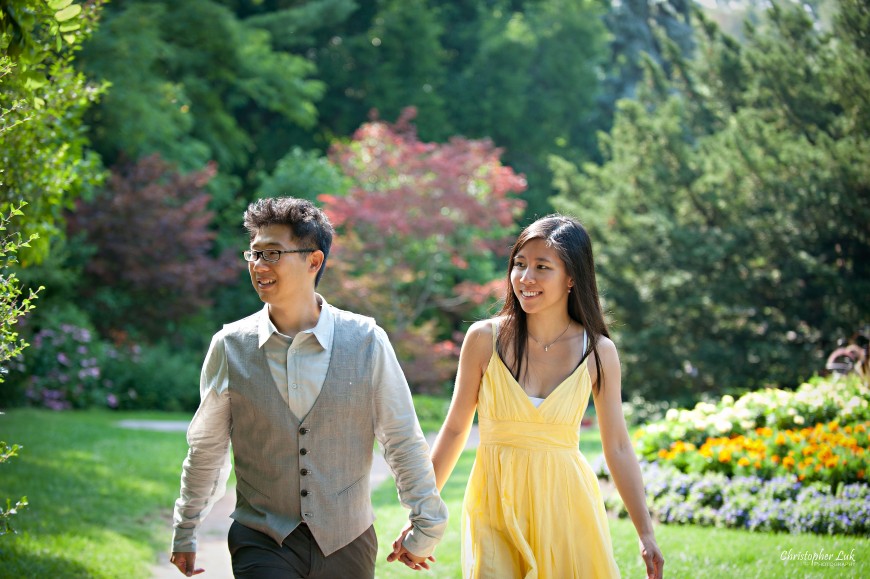 SEE MORE: Christopher Luk Photography Weddings at Alexander Muir Memorial Gardens Park