Surprisingly, it doesn't seem as though nearly as many retailers have released information about their upcoming Black Friday sales when compared to previous years. Regardless, here are a few great wedding-related "Black Friday" 2014 sales in case you or your friends are getting married soon! Even if you nor your friends are not getting married soon, sometimes it's nice to just find a good deal :)
————————————————————————————————————————————–
1) Up to 70% off at Indochino (Custom-Made Menswear)
Indochino produces custom made-to-measure menswear (suits, shirts, pants, accessories, etc.). If you've been thinking of having a custom suit made, this is the perfect opportunity! Every man needs at least one well-fitted non-black coloured suit (ie. charcoal, grey, or blue). If you'd like to see and feel the fabrics and materials in-person, be sure to book an appointment at their Toronto showroom located at King St W and Spadina Ave. Coupon Code: BLKFRI. Sale ends Sunday, November 30th.
My recommendations include the Premium Gray Windowpane Three-Piece Suit, the Charcoal Twill Three-Piece Suit, and the Indigo Micro Birdseye Luxury Three-Piece Suit (all 3 are on sale for $450, down from $749, for a savings of 40% off). Select shirts are 50% off ($48 and up) and a few pocket squares are 70% off ($9 and up).
Note: People have had a wide variety of experiences with Indochino ranging from terrible to amazing. Be sure to allow lots of time in advance of your wedding day to allow for alterations and remakes. Otherwise, 40% off full retail pricing on a made-to-measure suit is a tough deal to beat.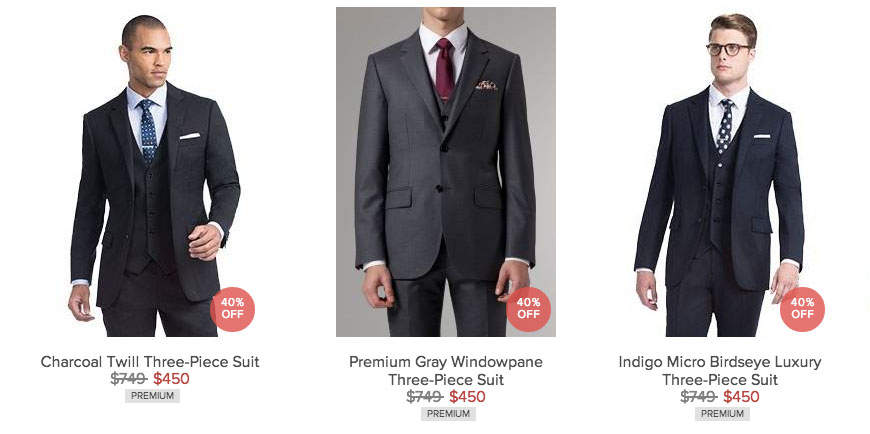 ————————————————————————————————————————————–
2) All Bridal Dresses $199 at Windsor Bridal's Liquidation Sale
While technically not a "Black Friday" sale, after over 60 years of business, Windsor Bridal has closed its doors and Dansbury Liquidators has taken on the duty of selling off over 6,000 wedding dresses from brands including Alfred Sung, Maggie Sottero, Sottero & Midgley, Pronovias, San Patrick, Enzoani, Essence of Australia and Kenneth Winston. The event is boasting itself as largest bridal liquidation sale in Canadian history! Wedding gowns that would have originally cost anywhere between $500 to $4,500 are now all on sale for only $199 plus HST (which totals to $224.87).
Even after paying for additional alterations from a local seamstress and for the dress to be cleaned, I'm pretty sure that you'd still be coming away with quite a deal. Be sure to visit on a weekday (as it's much less busy than compared to a weekend day) and bring an extra portion of patience (as I'm sure there's a ton of stuff to wade through).
Windsor Bridal Liquidation Sale
1120 Caledonia Road, Toronto, M6A 2W5
(Caledonia Rd and Lawrence Ave W)
Hours Of Operation:
Monday to Tuesday: Closed
Wednesday to Friday: 11:00am to 8:00pm
Saturday: 9:30am to 5:00pm
Sunday: 11:00am – 5:00pm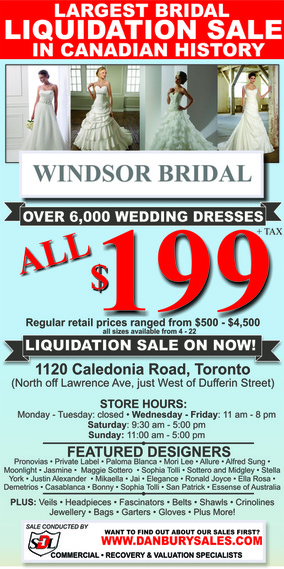 According to their Facebook Page, as of Mon, Nov 24th: "We still have over 4,000 gowns to choose from so it is definitely worth the trip! However, due to the amazing response to our sale, we now have a very limited number of dresses sized 0-4 and 22+. Please keep in mind that wedding dresses fit 2 to 3 sizes larger than regular clothing. We still have lots of inventory to move, so come down and check out our selection!"
————————————————————————————————————————————–
3) Up to 40% off Henkaa Multi-Way, Convertible Dresses and Accessories
Henkaa makes the famous "infinity" convertible dress — a one-size-fits-all dress that can be worn in an infinite number of styles available in a wide variety of colours. In other words, each person (ie. bridesmaid) can style their dress in a way that best flatters their body shape. Henkaa carries a wide variety of dresses, gowns, scarves, and accessories (as well as matching ties and pocket squares). They're so versatile, you can easily wear them again for other weddings and special events (or even as a maternity dress). Or pack them in your luggage for cruises and vacations where space is a premium as they pack away very easily and the fabric doesn't wrinkle!
To try on a dress and a see what styles work best for you, book an appointment online to visit their Toronto showroom across the street from Yorkdale Mall. Sale ends Monday, December 1st.
My recommendations include the Sakura Baby Pink and Periwinkle Blue Maxi Convertible Dresses (ie. their full-length dress, on sale for $123, down from $168, for a savings of 30% off) and the Sakura Baby Pink and Periwinkle Blue Midi Convertible Dresses (ie. their best-selling bridesmaid dress, on sale for $101, down from $138, for a savings of 30% off).
Other honourable mentions include the Silver Clear Flora Gem Styling Clip Set ($13, down from $38, for a savings of 70% off), Hana Baby Pink Maxi Chiffon Overlay (other colours also available; $57, down from $78), Vintage Bracelet ($36, down from $48), Floral Petal Brooch ($49, down from $58), and Rosette Gem Baby Pink Styling Clips (other colours also available; $13, down from $18).
————————————————————————————————————————————–
4) Up to 60% off Jewelry and Accessories from Stella & Dot
Stella & Dot offers jewellery and accessories online and through in-home Trunk Shows by Independent Stylists. If you're interested in learning more, book a styling party with Kitty Lee (Stella & Dot Independent Stylist) today! Sale ends Sunday, November 30th.
My recommendations for statement necklaces include the Fiona Bib Necklace (on sale for $72, down from $128, a savings of 40% off), Oasis the Bib Necklace (on sale for $78, down from $208), and the Daliah Bib Neklace (on sale for $54.60, down from $104; plus you can pair it with the Daphne Pearl Bracelet for $30.38, down from $54).
Other honorable mentions include the Mallorca Chandelier Earrings ($34.43, down from $54), Marnie Link Necklace ($59.93, down from $94), and Mercer Zip Wallet – Navy / Red Medallion ($47.25, down from $84). Click here to see everything that is on sale!
————————————————————————————————————————————–
Have you found another great Black Friday sale and would love to share it with us? Be sure to let me know and I'll be more than happy to add it to this list :)