So much amazingness happened on Cindy and Walter's wedding day! This is one of those times when there is simply too much great stuff to show and not enough space to share it all! Anyways, let's get started :)
I love First Look's (aka. Reveal's)! We found a quiet nook for Cindy and Walter to see each other for the first time. Walter was so excited, especially since he could hear Cindy getting closer and closer to him with each and every step!
Cindy and Walter both have a huge love and appreciation for music. They incorporated some of their favourite song lyrics into the design of their stationary as well as into their vows during the ceremony. Among them, the choruses from "Times Like These" by the Foo Fighters, "If I Ain't Got You" by Alicia Keys, and "I Will Be Here" by Steven Curtis Chapman (a song that personally means a lot to my wife and I)!
Plus, they invited a live band, The Doubts, to get the party started with their well-loved high-energy, high-intensity style. As the night continued, Walter and his best man, Joe, who have played together in a band gigging around the city for a number of years, took to the stage and rocked out a few songs as well!
Their flair bartender, Julie, kept the drinks flowing and kept guests entertained with juggling, flipping, and other tricks! As she was performing, in a tongue-in-cheek way I said, "that would be wicked if those bottles were on fire!" She calmly responded with, "I can do that!" Suffice to say, I was super impressed when she quickly lit them on fire and just continued on without skipping a beat!
What a party! It was really great to see such a wide range of ages having fun and participating on the dance floor, from little babies all the way to grandparents! Grandpa had some serious skills :)
Congratulations, Cindy and Walter! May you both continue to love each other more and more "Today, Tomorrow, Forever"!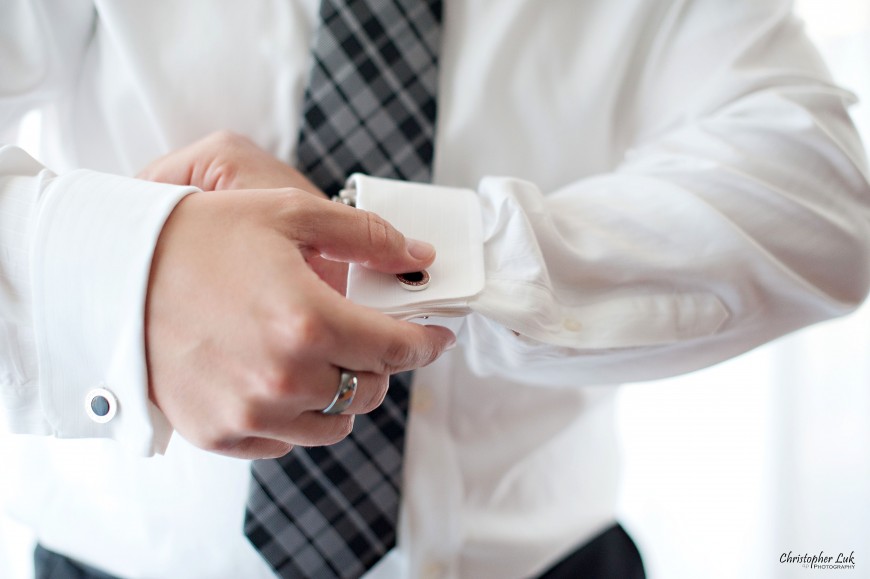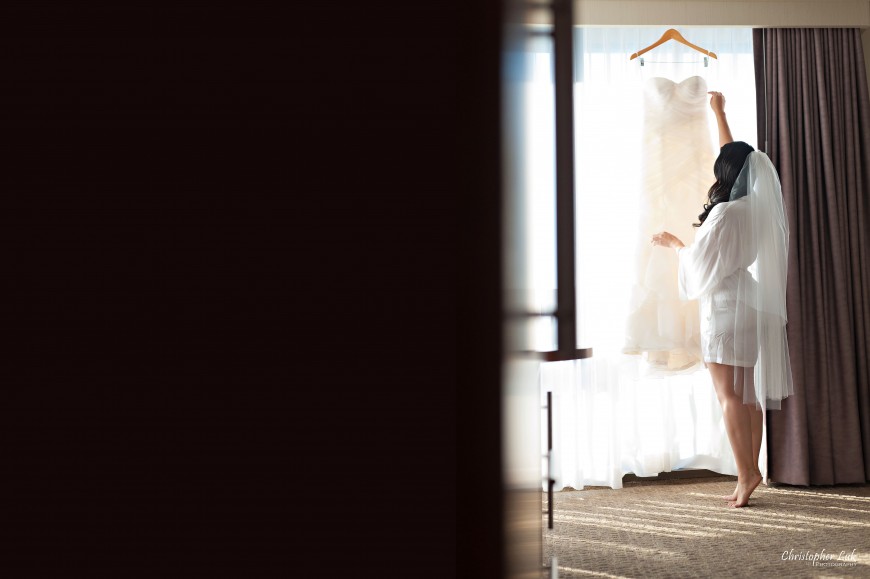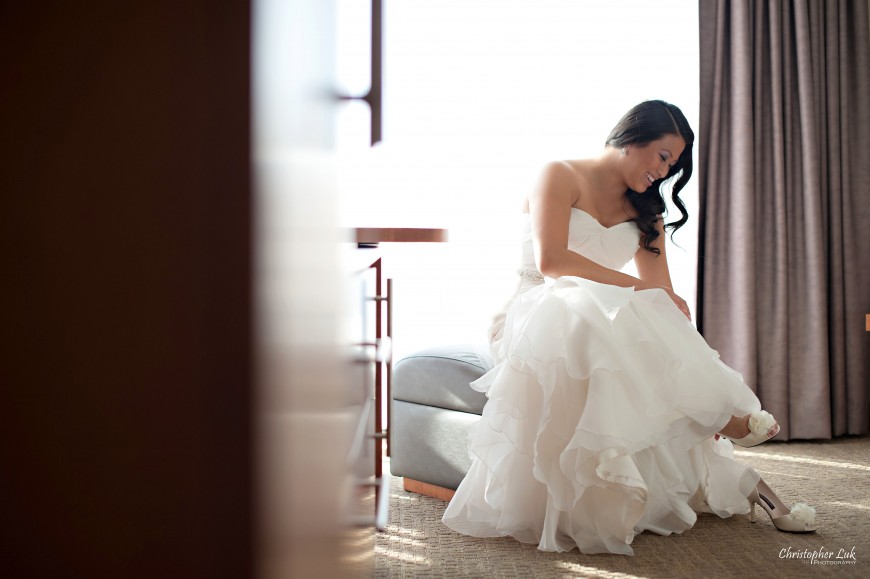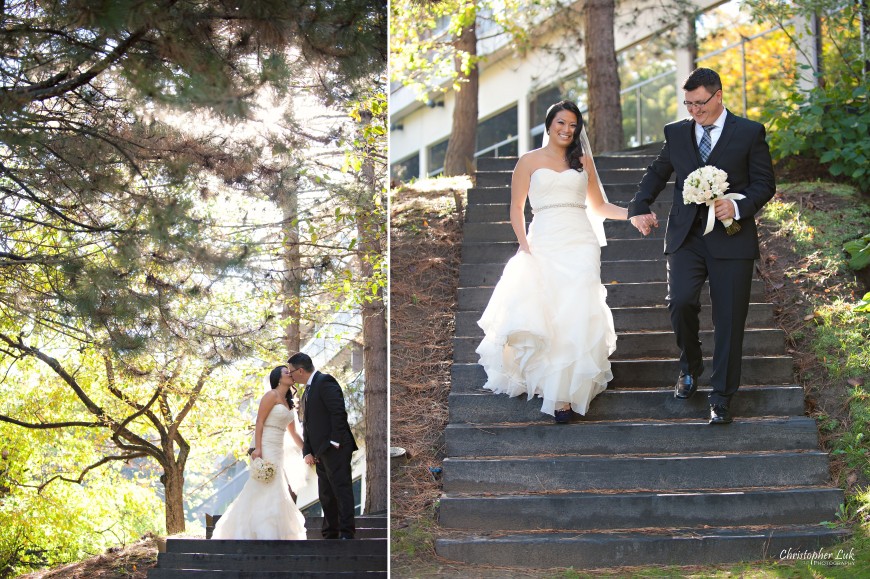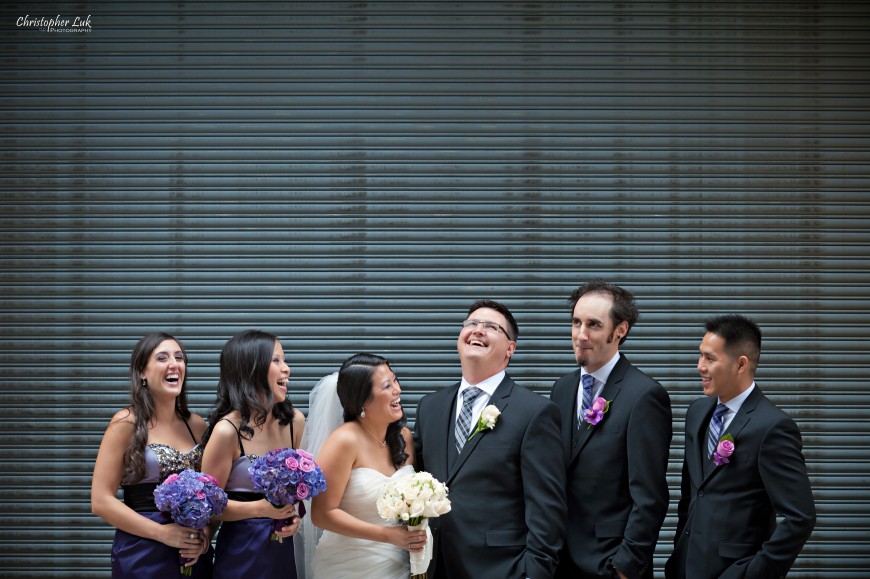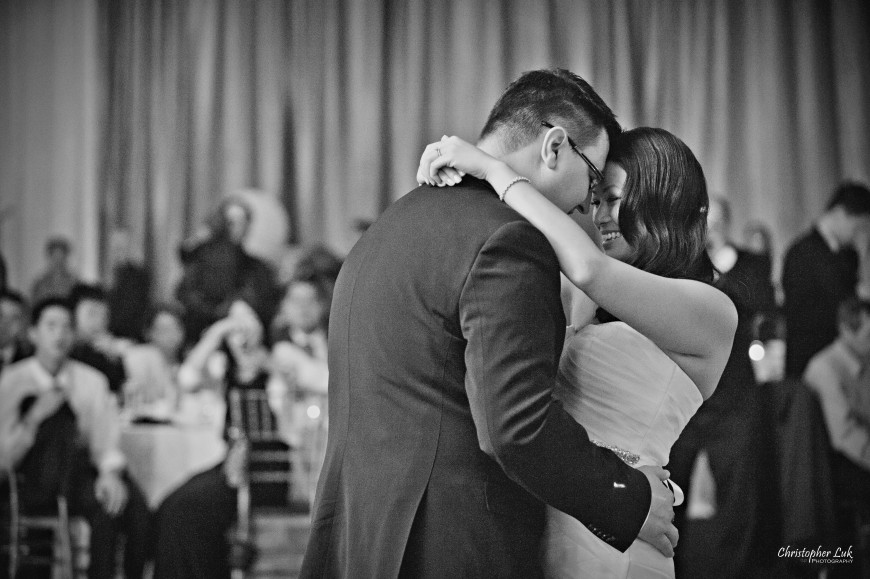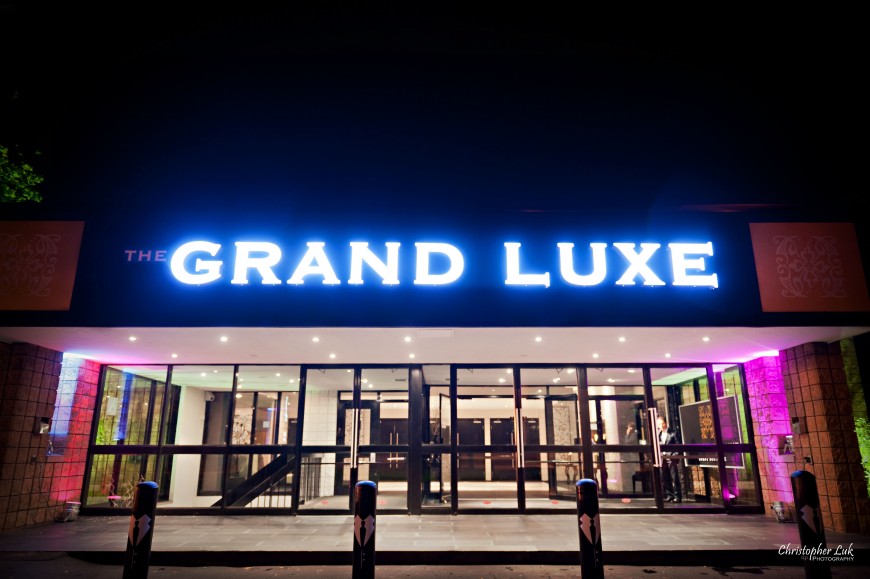 Photographers: Christopher Luk (Glendon Tang)
Getting Ready Location: The Westin Prince Hotel in Toronto, Ontario
Creative Relaxed Portrait Session Location: The Financial District in Downtown Toronto
Ceremony Venue: Grand Luxe Event Boutique in Toronto, Ontario
Cocktail and Dinner Reception Venue: The Ballroom at Grand Luxe Event Boutique in Toronto, Ontario
Flair Bartending / Extreme Bartending / Flairtending: Julie from The Pegasus Hospitality Group (Palais Royale Ballroom, Casa Loma Toronto, Grand Luxe Event Boutique) in Toronto, Ontario
Live Band: The Doubts (Erin Benoit, Eric Lam, Neil Teixeira, John Daly, Jeff Filardo, and Neal Burstyn): Rock, Funk, R&B, Top 40, Your ultimate party band for any occasion!
Make-Up Artist: Rita Stirpe from Rita Stirpe Makeup Artistry
Hair Stylists: Evoke Salon, Yonge & Eglinton Location
Bridal Wedding Gown: La Sposa: Wedding gowns and evening dresses
Bridesmaid's Dresses: bebe: Chic, contemporary fashion
Invitations, Programs, Menus, Stationary Design: Cards and Pockets: DIY invitations
Florist: Baroness Floral Design in Woodbridge, Ontario
Officiant: Kyle Kofsky of All Seasons Weddings: Your wedding, your way, your location
Cake Designer: Yorkshire Pudding Inc.: Premium private caterer
Decorations, Event Design, and Décor Designers: European Elegance Inc. from Concord, Ontario
Engagement Session: Cindy and Walter's Engagement Session at Downsview Park in Toronto, Ontario
SEE MORE: Christopher Luk Photography Weddings