Something that I do differently from many other weddings photographers is that I'm there to see both the bride and groom in the morning of their wedding day as they get ready! (Many photographers cover the bride and bridesmaids getting ready, but send their second photographer out to be with the groom and groomsmen.) Personally, I love starting the day off by meeting everyone, soaking in the atmosphere, participating in the excitement, and catching up on all that they've been doing since I saw them last.
As I was talking with Mat, I asked him, "Remind me: how many years have you been waiting for this day?" As he thought about it and reflected back on the memories, he started to get a bit emotional and gently responded with, "Almost 3 years".
It's intimate, heart-warming moments like this that remind me of what an honour it is to be entrusted as a wedding photographer, with the ability we've been given to draw out and capture genuine emotion that is found deep within our couples. Keren: starting the day off by getting Mat ready with the right mindset (and not just in his right clothes) is my gift to you! As you can see, Mat was overjoyed to see Keren in her wedding dress for the first time walking down the aisle!
Well, after a 3-year long engagement, Keren and Mat are finally married! What an amazing day of celebration — it was well worth the wait. Congratulations, Keren and Mat! :)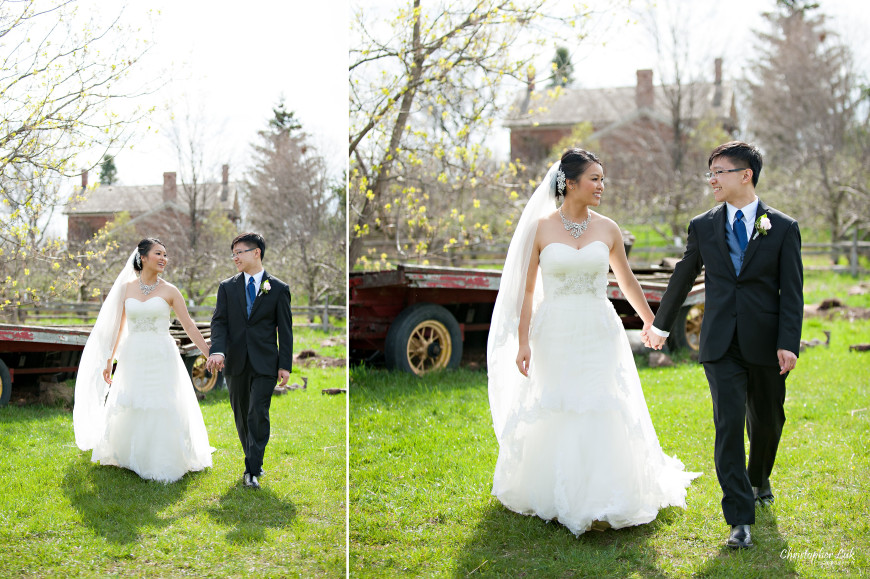 Photographers: Christopher Luk, Toronto Wedding and Event Photographer (and Glendon Tang)
Getting Ready Venue (Bride): Hilton Toronto / Markham Suites Conference Centre & Spa in Markham, Ontario
Ceremony Venue: Cornerstone Chinese Alliance Church in Markham, Ontario
Bakery / Lunch Catering: Noisette Pastry Works: Fresh cakes, baked goods, cookies, and desserts in Thornhill, Ontario
Creative Relaxed Portrait Session: Markham Museum & Historical Village in Markham, Ontario
Dinner Reception Venue: Crystal Fountain Banquet Hall in Markham, Ontario
Wedding Planner / Coordinator: Aaron Cheung of Man With the Wedding Plan: Perfectly planned weddings
Make Up Artist and Hair Stylist: Maggie Ng at Maggie Ng
Wedding Dress / Bridal Gown: Pronovias
Engagement Session: Keren and Mat's Engagement Session at The Historical Distillery District and Cherry Beach in Toronto
SEE MORE: Christopher Luk Photography Weddings
SEE MORE: Christopher Luk Photography Engagement Sessions
SEE MORE: Christopher Luk Photography Weddings at Hilton Suites Markham Toronto
SEE MORE: Christopher Luk Photography Weddings at Cornerstone Chinese Alliance Church
SEE MORE: Christopher Luk Photography Weddings at Markham Museum
SEE MORE: Christopher Luk Photography Weddings at Crystal Fountain Event Venue